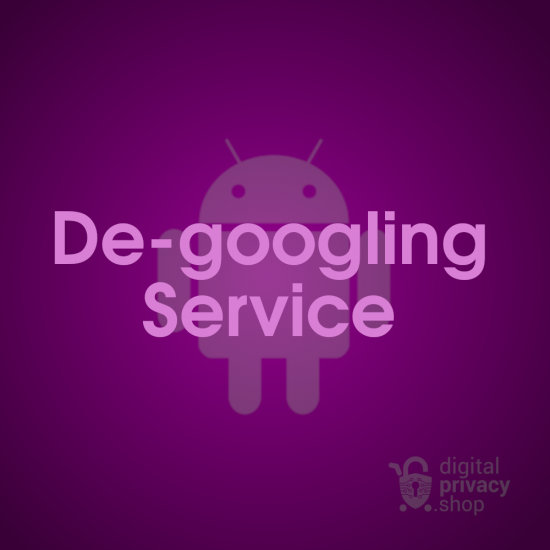 Custom Order


Degoogling Service
We de-google your phone or tablet for you
Mail your phone or tablet to us and we will de-google it for you. This service includes all of the following:
Advice for choosing the operating system that fits your needs
Operating system installation
Return shipping
Technical support for the lifetime of the device
Step 1: Verify your phone / tablet can be de-googled
iPhones cannot be de-googled, only certain Android devices. Which Android device depends on the manufacturer, model, and if it is unlocked.
Carrier/SIM Unlocked: First, make sure your phone is carrier unlocked, also known as SIM unlocked. Any time you purchase a device from a telecom company like T-Mobile, AT&T, and Verizon it will be locked to their network until the device is paid for (if you're making monthly payments) or after a predetermined period of time has passed. You'll need to check with your carrier to verify this step. That's why it's always best to purchase an unlocked device directly from the manufacturer.
Operating System Compatibility: To de-google your device, we will completely remove the current operating system and install a new one. Below is a list of de-googled operating systems. Check the links in this table to see if your phone is listed.
| | |
| --- | --- |
| Operating System | List of Compatible Devices |
| CalyxOS | |
| GrapheneOS | |
| LineageOS | |
| DivestOS | |
| /e/ OS | |
Pixels from Verizon Will Not Work: Did you notice Calyx Institute's caution about Pixel devices from Verizon? No matter what operating system you want to install, the bootloader cannot be unlocked on a Google Pixel device from Verizon. Perform these steps to verify.
Go to Settings app > About phone
Scroll down and tap Build number 7 times
A toast message will appear "You are now a developer"
Tap back arrow to leave About phone, scroll down and tap System > Developer options
Scroll down to OEM unlocking - If the OEM unlocking toggle is greyed out, it is likely a Verizon Edition and cannot be de-googled.
Step 2: Understand the End Result of De-googling a Phone
Before proceeding, it's important to understand fully how de-googling will affect your phone or tablet.
All personal data on the device will be erased: This includes erasing User Data - your contacts, apps, personal files like photos, videos and audio files. Be sure to export this data off of the device now if you want to save it. We provide a tutorial on how to transfer data from an Android device.
The manufacturer's warranty may be voided: Most warranties expire after one year. If you have a newer phone this may be a factor. In the case of installing CalyxOS on a Pixel device, they state that Google's warranty will still be honored. In some cases, the original Android operating system can be re-flashed to the device, and the warranty may still be valid. However, it's best to accept that your warranty is null and void.
You're migrating over to a new suite of apps: Say goodbye to the fancy camera app from Apple or Google, although the alternative camera apps work just fine. As a general rule, be prepared to let go of the luxury and conveniences from Big Tech (that's the trade off when you gain your freedom). The open source apps on de-googled phones are outstanding, but in a different way. They are reliable, and get the job done. Just keep this in mind... there is a difference between an app developed by a multi-billion dollar corporation with limitless funds, and an open-source app developed by a volunteer community or open-source enthusiast.
Step 3: Agree with our Terms of Service
By selecting this service, you agree Privacy Mint, LLC (dba DigitalPrivacy.Shop) will not be liable or have any responsibility of any kind for loss or damage that you incur in the event of any failure. This includes the loss of data contained therein, or the services offered thereby available to you, or from any other cause relating to the services performed, whether or not the circumstances giving rise to such cause may have been within the control of DigitalPrivacy.Shop.
Step 4: Select "Request This Item" button and fill out the form
Send us the brand, model, and model number (i.e. OnePlus, 7 Pro, GM1917). You must verify the device is carrier unlocked and that it was not purchased directly from Verizon. Tell us which operating system you want installed (or let us know and we will help you decide). We'll send you instructions to prepare the phone and ship it to us.
Note: Price includes all taxes and fees.
Stock:

Custom Order

Model:

S001