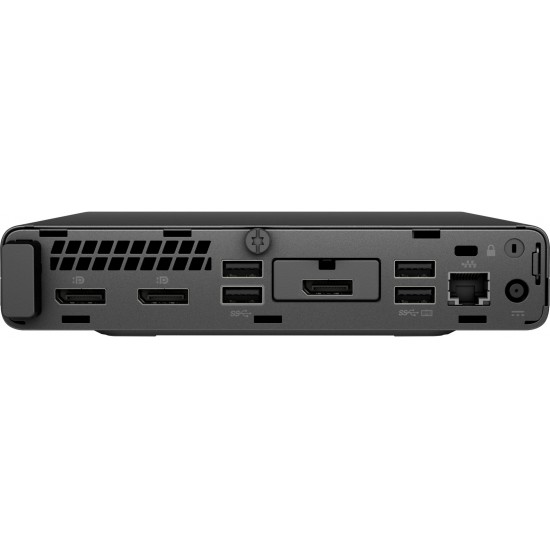 HP EliteDesk 705 G4 Mini - Linux Desktop
This ultra-compact HP EliteDesk 705 G4 Mini measures 7 x 7.1 x 1.5 inches making it ideal for tight spaces. Enjoy ample processing power with the AMD Ryzen 3 Pro 2200GE, 8 GB of DDR4 memory, integrated AMD Radeon Vega Graphics 8 controller, and 256 GB of storage SSD.

Condition: Like-new, factory refurbished
Hardware Interface & Peripherals: DisplayPort 1.2 x3, Wi-Fi 802.11ac, Bluetooth, Ethernet RJ-45 port, USB-A 3.1 Gen 1, USB Type-C 3.1, headphone and line-out ports.
Operating System: Choose between Linux Mint and Ubuntu. Each one provides an elegant and intuitive user interface, ample documentation and a robust support community -- great for first-time Linux users.
Why Linux? Unlike Microsoft Windows, Google Chromebook, and Apple iOS, you are in complete control of your data and privacy. There are no forced upgrades, no corporations collecting your data, spying on your communication, or pinpointing your location. Linux gives new life to older hardware, reducing e-waste, and making personal computing more affordable. Additionally, the Linux operating system and all of the pre-installed apps are open source, meaning auditable code and complete transparency. Your days of being forced to trust Big Tech are over!
Included Accessories: 65W 120V AC power adapter
Technical
Memory
8GB DDR4 RAM
CPU
AMD Ryzen 3 Pro 2200GE @ 3.2GHz
Storage
256GB Solid State Drive
Graphics
AMD Radeon Vega Graphics 8
Bluetooth
Bluetooth 4.2
Wi-Fi
Wireless 802.11ac
Peripherals
DisplayPort 1.2 x3, USB-A 3.1 Gen 1, USB Type-C 3.1, Ethernet RJ-45 port, front headphone and line-out ports
Audio
Conexant CX20632, 2 W class D mono amplifier for the internal speaker only
Dimensions
6.97 x 6.89 x 1.35 in
Weight
1.265 kg (2.79 lb)
Stock:

1

Brand: Hewlett-Packard
Model:

EliteDesk 705 G4

Weight:

2.79lb

Dimensions:

7.00in x 6.90in x 1.40in
Featured Benefits
Linux - Privacy by default
Regular security updates
Up to 50% less than new
Expedited 3-day shipping
Free technical support
Tested & certified for quality
30-day return policy
32+ oz of e-waste prevented