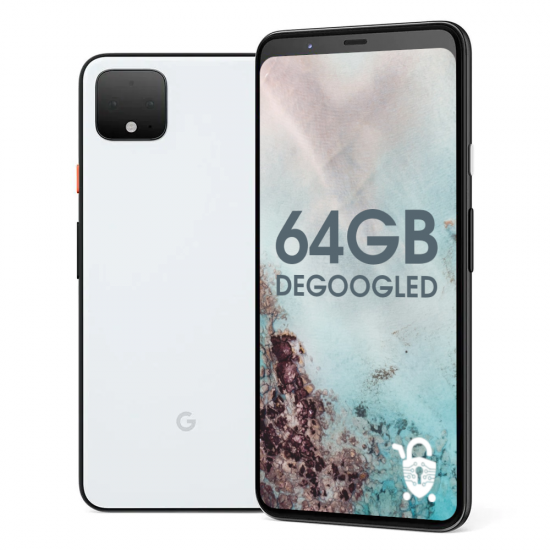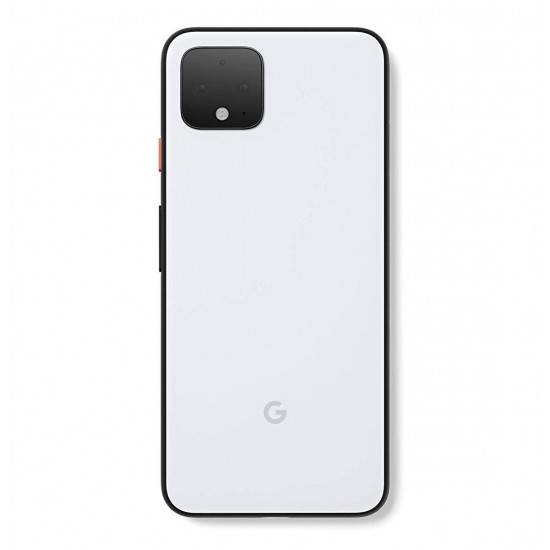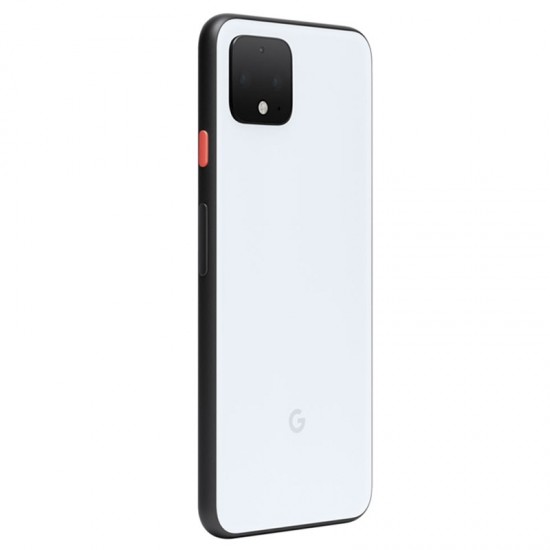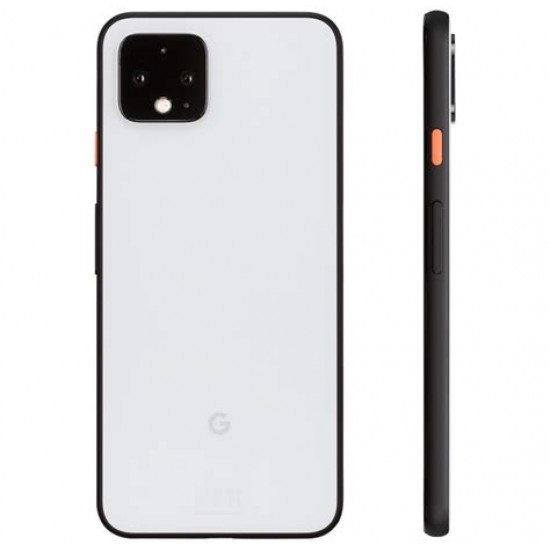 Degoogled Pixel 4 - 64GB Unlocked - White
Bright, simple and white. If you love taking photos, you'll enjoy the added 16 megapixel camera on the Pixel 4 and 4 XL. That's three cameras on one phone... two back-facing and one front facing. The aluminum frame and glass finish give it a high-end appearance. The Google Pixel 4 smartphone was announced on October 15, 2019 as the successor to the Google Pixel 3. The Pixel 4 is constructed using an aluminum frame and Gorilla Glass. The device is available in Just Black, Clearly White, and Oh So Orange colors, with the white and orange models having a matte, "soft touch" glass finish, and the black model having a glossy finish. The frame is painted black on all models, while the power button is accented and made from plastic. The Snapdragon 855 chip provides a nice upgrade to processing power. There is no fingerprint scanner or headphone jack on this model
Software Update Notice: This device will continue to receives OEM firmware and security updates through October 31, 2022.
Carrier Compatibility: Unlocked and compatible with all major telecommunication carriers.
Operating System: Preinstalled with your choice of privacy-respecting OS. Learn More
Operating System: Select a privacy-respecting operating system. (1) CalyxOS is the most popular and very user friendly, (2) GrapheneOS is the most secure, (3) LineageOS allows root access and works well with a broad range of devices. Learn More
Condition: "Mint" - no signs of wear, "Excellent" - very lightly used with minimal wear, or "Good" - lightly used w/ normal wear.
Charging Cable: An optional nylon USB-C to USB-A 2.0 cable is available if needed.
Technical
Codename
flame
Release date
2019-10
SoC
Qualcomm SM8150 Snapdragon 855
Memory
6 GB
CPU
Octa-core Kryo 485; 1 x 2.84 GHz + 3 x 2.42 GHz + 4 x 1.78 GHz
Architecture
arm64
GPU
Adreno 640
Network
2G GSM, 3G UMTS, 3G CDMA2000, 4G LTE
Storage
64 GB
Display
144.78 mm (5.7 in), 2280x1080 (444 PPI), AMOLED
Bluetooth
5 with A2DP + aptX HD
Wi-Fi
802.11 a/b/g/n/ac, Dual-band, WiFi Direct, Hotspot
Peripherals
Accelerometer, Barometer, BeiDou, Compass, Depth Sensor, Dot Projector, Dual front speakers, Fingerprint reader, Galileo, GLONASS, GPS, Gyroscope, Light sensor, NFC, Proximity sensor, Qi wireless charging, Radar, USB OTG
Cameras
12.2 MP, Dual LED flash; 16 MP, No flash; 8 MP, No flash
Dimensions
147.1 mm (5.79 in) (h), 68.8 mm (2.7 in) (w), 8.2 mm (0.32 in) (d)
Battery
Non-removable Li-Po 3430 mAh
Color
White
Stock:

1

Brand: Google
Model:

Pixel 4

Weight:

5.71oz

Dimensions:

5.79in x 2.70in x 0.32in
Featured Benefits
De-googled - Privacy by default
Carrier/SIM unlocked
Regular security updates
Up to 75% less than new
Expedited 3-day shipping
Tested & certified for quality
30-day return policy
6 oz of e-waste prevented