29 Oct

GrapheneOS Official Support
Fans of custom ROMs and degoogled phones can celebrate now that the first official build of GrapheneOS has been released for the Pixel 8 and 8 Pro. Google released the Pixel 8 and Pixel 8 Pro on October 4th, 2023 and we can finally enjoy a de-googled experience on the latest flagship Android smartphones.
For those who are fed up with the spying, tracking, and rampant data collection by Google and Big Tech, we recommend taking a close look at GrapheneOS. Self-described as a private and secure operating system with Android app compatibility, GrapheneOS starts with the Android Open Source Project (AOSP) as a baseline and builds better apps and security features for privacy-minded individuals. GrapheneOS purposefully supports only Google Pixel hardware in order to optimize security and privacy features.
If you're already sold on the benefits of the Pixel 8 with GrapheneOS and ready to purchase, click the button below. Otherwise, read on!
BUY NOW
Pixel 8 New Features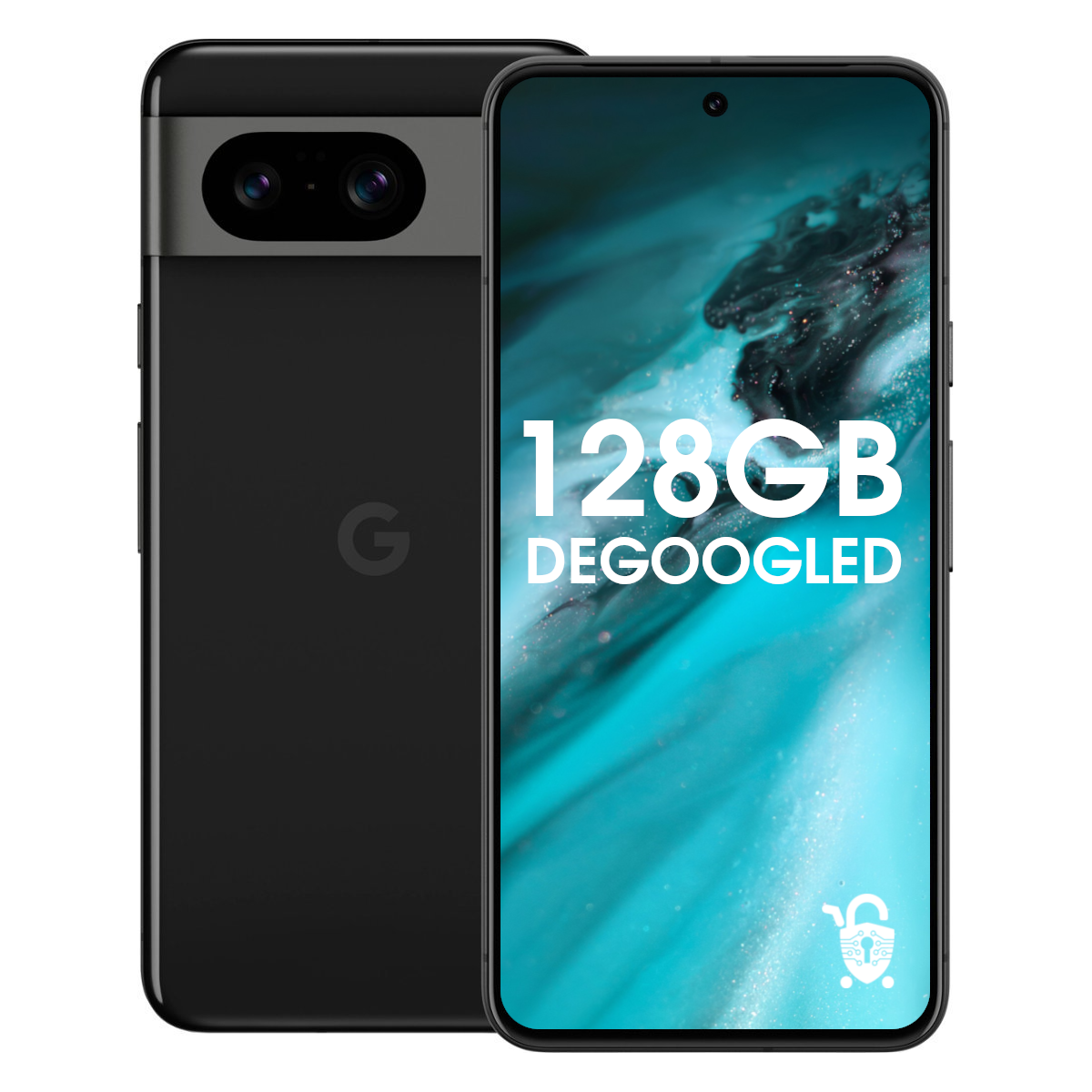 First, let's review what's new in the Pixel 8. Most notably is the guaranteed Android version and security updates through October 2030. That is seven years of official support, a first in the mobile phone industry! But how will that affect the end user and especially those of us concerned about privacy? It is a win all the way around. GrapheneOS will likely offer official support for the same amount of time if not longer. And this shows acknowledgement by Google that cell phone lifespans should be longer. Time will tell whether this will reduce the number of smartphones flowing into landfills?
The Pixel 8's Tensor G3 System on Chip (codename zuma) features an upgraded 9 CPU cores, placing it on par with other flagship brands. It also continues to utilize high-quality components that align with it's flagship status. Gorilla Glass Victus on the front and back give it a high-end appearance. Maybe most surprising is the added radius around the corners and edges making it very comfortable to hold in the hand. In fact just looking at the screen, the increased radius (or curve) on the corners is noticeable. Probably a matter of opinion, but we liked the new look.
Attributes like charging time continue to be refined and improved, with 20-25 minutes less for a full charging cycle. Additionally the screen refresh rate is now 120Hz, placing it on par with the best flagship competitors.
The Pixel may be best known for its camera quality, and the Pixel 8 continues to impress with a 50 MP primary camera with f/1.68 aperture. However, users of GrapheneOS and other privacy OSes should remember that much of the camera wizardry is accomplished in the Google Camera proprietary software, which of course has been replaced with open source software. So, while it's still an excellent camera, it's best to manage your expectations.
GrapheneOS Improvements on the Pixel 8
Their focus on security is second to none in the industry. If you're new to GrapheneOS it is worth reviewing their security features in detail. In addition to the improvements in Android 14, the developers have focused on reducing attack surfaces, mitigating known vulnerability exploits, improvements through sandboxing of apps and services, anti-persistence detection, and better patching of known vulnerabilities.
TIP: GrapheneOS is the most hardened operating system for mobile phones available on the market today.
Buy Now - Degoogled Pixel 8 with GrapheneOS
If you are in the market for a Pixel 8 and want to try GrapheneOS, pick one up from our shop. We offer new products in factory box, as well as pre-owned devices. Questions about our products and services? Contact us anytime and we'll be glad to help!
BUY NOW